Roll Spring Repairs New York City New York
Spring for roll-down shutters and roller shutters NYC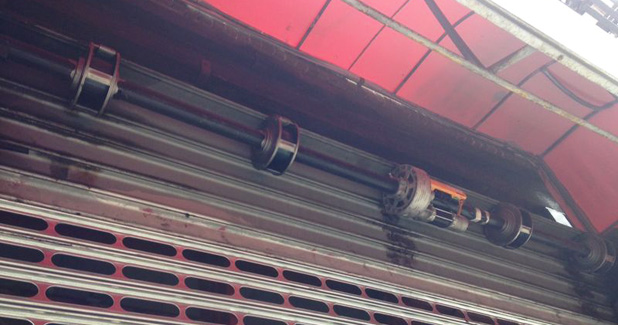 Roll Spring Repairs New York City New York
You might not be aware, the roll-down gates in New York City are connected to a spring, which is installed at the top of the gate. And if you are wondering why the spring is there, and what it is there for, you came to the right place. The spring of the roll-down is what make it so easy to open the gate and close it. And even if it is a motorized roller shutter, like many of the iron rolling doors in NYC are, it still need the spring to make the gate operable. And if the spring is broken, or if the spring is weak, (And it is probably why you are visiting our website) Speedy Doors will help you get it fixed. In this post we will try to explain what exactly is the spring, what type of springs there are, what to do when the spring break, and why the spring broke.
Safety Warning
Broken roll up gate, whether it is due to a "not working" spring, or any other problem, should not be used, and should be repaired by a qualified technician. With our same day service, we can service any commercial use gate in New York City, including roll ups with a "not working" spring. The important thing is not to try and use the gate when it is trapped or off tracks, and contact a local company. If you need emergency roll-down repair in New York, Speedy Doors can be there within 2 hours, and get the gate working again. For same day service, get in touch with us.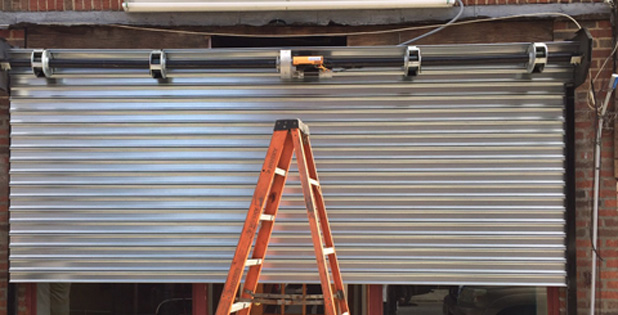 Avoid DIY! Spring repair or replacement for a commercial use roller shutter in New York is not a mission for the local handyman. If you need repair or new spring for a roller shutter, hire a local gate repairs service-provider in New York to do the job.
Push To Open Roll-Down Door Spring NYC
Maybe the most popular type of storefront gate that can be found in New York City is the push to open roll-down door (Also known as push up gate). The gates are easy to operate, and they can be motorized or not. The spring of a push up gate work in a way that the tension of the spring is calculated to hold the spring open when the door is up, and keep it closed when the door is shut. There are many iron shutters in New York, and one of the most common reasons they get trapped is a situation with the spring. Speedy Doors service storefront gates in New York City, and we can get any gate working again, sometime the same day. What important is not to try and push the gate using force thinking it will work again if you will only push it a little. You must take care of the problem, and repair or replace the spring in case it is what prevent the gate from working.
Commercial Roller-Shutter Spring NYC
The second spring we would like to talk about is the commercial use torsion springs. The commercial use torsion springs are installed in most cases on gate that being used multiple times a day, or heavy duty spring. When it is a heavy duty gate, push to open spring will not be enough, since they are not built for such high volume of work, or to carry the heavy commercial use gates in New York City. The torsion spring repair or replacement is not a mission you can do on your own, or a mission for your local handyman. This is a complicated job that require deep understanding of the commercial use rolling doors and the way they operate. If you are experiencing difficulties opening or closing a commercial use rolling iron door in New York City, get in touch with a local iron doors service-provider in New York to come and repair the door for you. Whatever you do, never try to force a commercial use gate to move. It may appear to you that enough power will make the gate work, but keep in mind that the gate can collapse in case the spring broke or will break, and there will be nothing to hold the gate in place.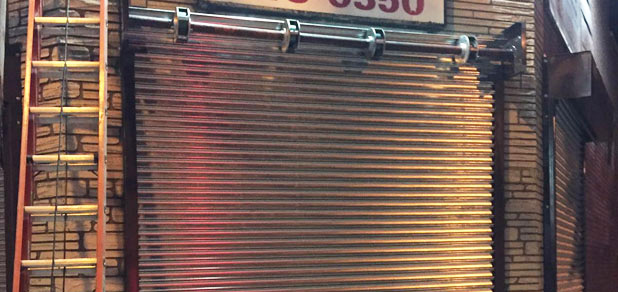 Roll Down Gate Spring Replacement New York
Replacing a roll-down door spring can be a simple mission for a qualified technician, but can also be a complicated job. A lot depend on the type of spring, the dimensions of the door, and where the spring is located. If the spring is buried in the ceiling, there might be a need for different contractors for the project. If you need a spring replacement, know that it might take a while, and the place behind the roller shutter might not be accessible through the iron door.
Speedy Doors And performed many complicated projects such as rolling door spring replacement, and not once we the job was done overnight. When the job require that the premises behind the gate will not be accessible while working on the door, it might require a night job, if those are the hours when the gate can be closed for few hours.
The replacement must be performed by a qualified technician. The springs of the roll-down doors can be under a lot of tension, which make them extremely dangerous.
Where to buy roll-down door spring in New York
We agree that the internet changed the world. And things that in the past required a specialist now can be done by do it yourself after watching a quick tutorial. However commercial use roll-down doors aren't the case. Do not assume that you can watch a video about roll-down doors in New York City, and then buy the spring and install it by yourself. The spring replacement is a mission for experts, and replacing a commercial use roller shutter spring is not something you want to do by DIY for the first time.
Even if you will find a place where you can buy a spring for a shutter. We still recommend you to avoid trying to install it by DIY. Spring replacement should be done by experts, and if you are not a one, hire a local service-provider who specialize in commercial use roller shutter repairs in New York City New York.
We do not sell springs! We will not take the risk of putting a dangerous part in the hands of anyone. If you want to risk your life, we will not be a part of it. It can be a "not working" roller shutter in the Bronx, or a roll-down door repair Staten Island, use a local expert for the job.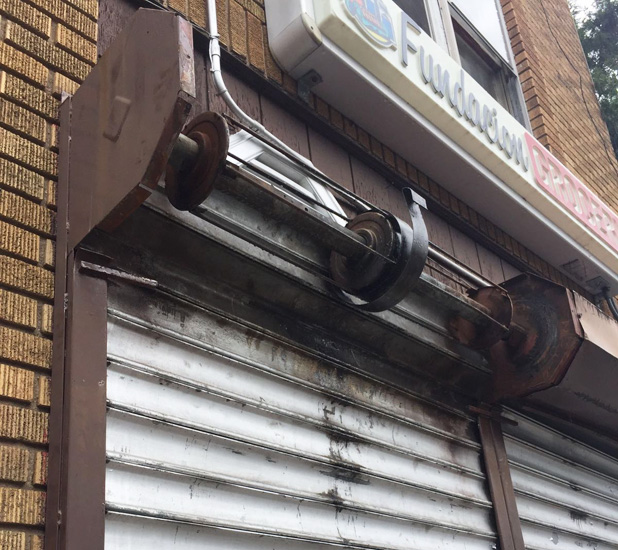 Roller shutter spring and maintenance
Maintaining a rolling iron door is an important part of making sure a roll-down door will work smoothly and will not get jammed anytime soon. And maintain the gate should include the spring. If you think that roll-down door maintenance is simply to grease the trucks, then you have a mistake. Maintaining a gate is so much more than that. And if it is a commercial use rolling gate, which work with torsion spring, it is a complicated job that should be left for the experts.
Why the spring broke?
We wish there was one simple way to answer the question why roll up gate spring break? The reasons are many, any vary from one roll-down gate to another. However if we were asked to give few potential reasons, we would say that the majority of "not working" springs is due to lack of maintenance, or since the spring wasn't the right spring for the gate. For example: If you installed a spring which would be a good spring for  a push up gate over a commercial use roller shutter which is being used many times a day, it is just a matter of time before the spring will break. What we are trying to say is that there is no "one spring" that will fit any roll-down door. Each door need different spring, according to the size of the rolling gate and how often/how many times it is being used a day.
Sometime a roll-down door jump out of the tracks, and if the owner would contact a local service-provider who repair roll-down doors, he tried to force the door or the gate to move, and made a severe damage which resulted with a "not working" spring. Sometime the situation can be solved within seconds when you know what need to be done.
What should I do if my roll-down door spring broke?
The best thing you can do will be to get in touch witch a local gate service-provider in New York City. You want this service-provider to be the following:
You want that service-provider to be insured.

You want that service-provider to be reliable.

You want that service-provider to be local.

You want that service-provider to be professional.

You want the technicians to be knowledgeable.

You want the service-provider to be there on time.

You want that service-provider to be able deal with all kinds of iron doors.
If you are looking for a local service-provider in New York City NY, who offer same day service, Speedy Doors of NYC will be a great solution. Whether the spring of the roll up gate is stuck, or if you are looking for emergency roll down door repair, we will help. With our same day service, we can be there today. Connect with us for same day service. With our 24/7 roller shutter services in New York, we can get your commercial use rolling door spring replaced today and get the door back and trucks and working ASAP.