Roll-Down Doors Services NYC
Same Day Commercial Roll-Down Doors Repairs NYC
About Speedy Doors
Speedy Doors of NYC is a service-provider based in New York City who believe that there is no reason why a shop owner or a home owner will wait more than 2 hours to get their roll-up steel door repaired. If you are the owner of a rolling door in New York City, and it can be a commercial use roller shutter or a home garage door, you want the door to be strong, reliable, and as beautiful as possible. If we will leave the part of how beautiful the door is (Since different people will consider different roller shutters in New York as beautiful or not), and we will give some attention to the security needs and the need of the door to work for many years, and at the same time to remain in operable condition at all times, Speedy Doors of NYC is the service-provider that can deliver.
It can be a commercial use roll down gate in Williamsburg NYC, or a speed door in New York City, when you are looking for a strong and reliable roll up door, there is one important tip we would like to share with you: This is not the place to try and save money by purchasing the cheapest potential roll gate. Even if you are renting a property in downtown New York City, or even if you rarely use the gate, invest your money in quality, and get a roll-down gate or a rolling iron door that will work and serve you for many years. However keep in mind that installing the best roller shutter isn't enough. You also need to grease and tune a roll-down door every few months (Depending on where the gate was installed, how often you use the door and more). Different gates in New York City require different amount of care. However to simplify things, the more often the gate is being used, the more maintenance it will need. For Same day roll-down door repair in New York City, Call: 917-983-7370
Rolling Doors Services NYC
There are many potential reasons that can lead to a trapped/busted, off rails or jammed roll up gate in New York City are many. several of the commercial use gates in New York City get jammed since somebody backed into the door with a vehicle, and some can get failing since nobody ever took the time to grease the door. However no matter how severe the situation is, and no matter how bad the jammed gate may appear to you, Speedy Doors of NYC will help, and Speedy Doors can do that today. Since we are based in New York City NYC, we have the ability to repair the door ASAP. You no longer need to be concerned "How long will I have to wait for the technician", or wonder if you are about to spend the night inside the shop, since you cannot get the storefront gate to close. With our same Emergency roll-down shutters repair in New York City NY, we can fix any "not working" iron door or Iron Gate in the 5 Boroughs today. You might need emergency roller shutter repair in Williamsburg NYC, or new roll down shutter installment in Queens NYC, Speedy Doors of NYC are prepared for the mission. Connect with us today, and one of our door's pros is going to be on his way to repair the failing gate. We offer on-the-spot gate repair, and we carry with us nearly all of the materials along with the equipment which are needed in order to fix a "not working" roller shutter in NYC.
Security Roller shutter Repair New York
Speedy Doors service all types of roller shutters in New York. It can be roller shutter in Brooklyn, or speed door in Williamsburg, we will help. Regular/On time roll down doo/gate maintenance, including greasing will ensure that your roller shutter will work flawlessly, and that it is most likely you will need to hire a gate specialist in Williamsburg NYC to come and fix the security door every other month. The expertise, knowledge and the proper equipment the shutter's expert use to service a commercial roll down door help the repairman to repair your broken roller shutter safely and quickly. If you are looking for reliable, professional and affordable roller shutter service in Williamsburg NY, then you have definitely come at right place. Speedy Doors repair and install all types of roller doors: From storefront roller shutter, to speed doors, we can be there today.
Roll Down Gate Expert New York NY
Each and every one of the experts at Speedy Doors have years of experience in the industry of the roller shutters, and are aware of every issue related to roller shutters. During these years the installers acquired knowledge to great level, which has helped them to ensure professionalism at every task, combined with the best and cheapest roller shutters services. The roll down doors of Speedy Doors are ready for any task, since when you are a real pro, you can deal with any gate or door, it can be a home garage door, or a storefront gate, whatever it is, and whatever type of roll down door is requested, we can be there today. Always on time, always with a positive attitude, since we know that being professional is not enough, to really become the best garage doors company in New York, you need to have the best customer's service.
Roller shutter repair Williamsburg NY
Are you finding it difficult to open up the roll down gate? Does the roll-down doesn't stay up anymore? Then probably something went wrong with the mechanism of the roller shutter, and it require a qualified local roll down security doors service provider in Williamsburg to come and repair it. In most of the cases with broken roll-down or rolling gates, you will find yourself unable to locate the malfunction on your own. And what many of roller shutter owners does at this time is trying to open the rolling door again and again. But, if your roller shutter is not working properly and it is not clear that what happened to it, you need to stop using it and call Speedy Doors for quick and efficient roller shutter service in Williamsburg. If you are going to force the gate to open or to open up or to close, and it can cause a bigger damage and can also put the safety of nearby people at risk. The right and safest thing for you to do, will be to get in touch with a local roll up doors company in Williamsburg such as speedy doors, that can provide a same day gate service. And get your roller shutter working again ASAP.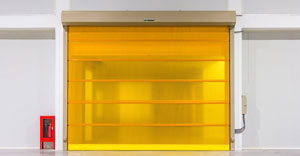 Speed Doors New York
The purpose of high speed doors is to simply open and close quickly (and of course safely) every time you need to use the entrance. There are many possible reasons why one might need a speed door installation. It can be set up in order to achieve maximum environmental control and separation every time the door is being used, so not heat or cold will be lost since one of the main reasons to install high speed door is due to the fact that speed doors function as a barrier. Among other things, the high speed doors (The high quality high speed doors) protect us from harm, save the energy and help us to separate processes for optimal productivity (Such as speed doors installed in a commercial space that require low temperatures at any time).
The experts from Speedy Doors of NYC are aware to the needs of high speed doors that will operate with no issues, and at the same time will work flawlessly and safely. We learned that a speed door that stop working can mean loss of money. So we always try to provide the fastest service, and the highest quality speed doors, which although being used many times a day, they will keep doing what it was installed for, and it is to open and close fast.
High speed door is a wise investment for many commercial facilities. Faster opening and closing times. High-speed doors can make a facility more secure, reduce heating or cooling loss and prevent airflow (that in some industries is a must since it can damage certain merchandise). In addition, when you are not stuck waiting for an "ordinary" door to open and close, you save time that you can use for other more important tasks around your property. And again, installing high speed door isn't enough, Speedy Doors supply and install high quality high-speed doors in New York City, and we are happy to announce that we offer same day repair for any type of roller door, including speed door repairs in New York. If you have any further questions on high-speed doors, if your high speed door is stuck, or other types of service doors and accessories for high speed doors in NYC, call Speedy Doors of NYC. One of our experts will be happy to discuss your needs and help you choose the best high speed door for you. After years of servicing high speed roll doors in New York, we have the knowledge to give you the best solution.