Roll-Down Door/Gate Maintenance NYC
Roller shutter greasing and tune up NYC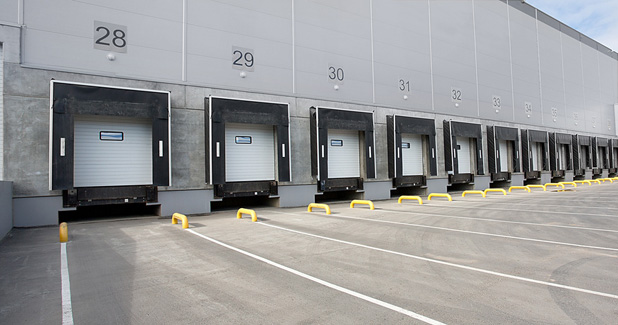 Roll Down Door New York City
It seems as if no matter how much we will say it, it will not be enough. Every roll-down shutter need maintenance. The roll-down shutter might work in a perfect way, and you might never need to hire a local roll-down shutter service-provider to repair the door or the shutter, if you will not maintain the roll-down shutter, eventually it will get stuck. And when the door get stuck, no amount of grease can repair it. You will have to use a qualified roller shutter repairman to come and fix the door. And only then, after the shutter will be fixed, the shutter will be maintained. This post come to save you the need for repairs, and it is here to help you get the shutter greased and tunes, so you will not need roll-down shutter repair service, and you will rarely need to hire roll down shutters experts in New York to repair the shutter.
Greasing can't replace repairs! If your roll-down shutter is broken, no amount of greasing will change that. If there is a situation with shutter like a "not working" or jammed part, or if the shutter is off tracks, or the spring need some tension, greasing will not help. First you will have to take care of the problem, and only then to grease and maintain the roll-down door.
Repair or grease the roll-down shutter?
If you got to the point that you need to ask yourself if you need to repair or to maintain the roll-down shutter, unfortunately you probably need repair. The thing with rolling iron doors maintenance is that people tend to remember it only when it is too late. Only when the roll-down shutter is stuck, and there is no way to make it work again, people remember that they did not grease the shutter for a long period of time. However now, when the roll-down shutter is stuck, whether the roll-down shutter spring broke, or the roll down door is off trucks, it is too late to simply grease it and solve the problem. You need somebody to repair it.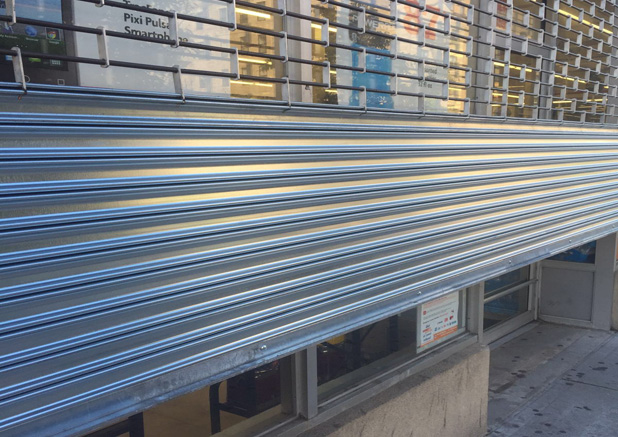 Avoid emergency roll-down shutters repairs!
Imagine it is Friday night, and you are about to close your shop and go home for the Weekend. You press the clicker, and wait for the roll-down shutter to close, but nothing happen. You try again, and again, but the door refuse to close. You are wondering what might be the reason for that, and you realize it has been a while since you hired somebody to grease the shutter. You go on google and look for roll down door repair Manhattan, hoping to find a service-provider that will pick up you call. When you eventually find a service-provider that offer emergency service, you tell them that you think that the shutter is trapped since it need some greasing. (We hear it a lot). What you do not realize is that the roll-down shutter passed the point where all it needs in order to work again is some greasing, and now you need repairs.
And you promise yourself to never ignore the maintenance, and to keep in mind to grease the shutter on time. If you wish to avoid that need, do yourself a favor and hire a local service-provider who specialize in roll-down shutters to come and perfrom the maintenances every time it is needed.
Who do shutter maintenance?
Some people understand the concept that when the job require a specialist, it is best to look for somebody who specialize in that kind of job. However some people think: "How complicated can it be to grease a rolling door? I can do it myself". We are not here to tell people what to do, if they want to risk themselves, and if they want to grease the door in a way that will miss the point, they can do it. We are here to recommend and to share the knowledge we gathered during so many years of servicing rolling iron doors and rollups services in New York City.
The right thing to do will be to hire a local specialist for the job, since commercial use roll-down maintenance isn't simply to grease the trucks, it is so much more than that. Here is a list of some basic steps that commercial use roll-down shutter in Manhattan should include:
Safety check for the door, the opener and the parts.

Greasing the trucks, slots, spring and other moving parts.

Tune up for the motor.

If needed add some tension to the spring.

Safety check for safety sensors.

Overall check for loose or damaged parts.
This is not a complete list, since some roll-down shutters require so much more than that. A lot depend on where the shutter is installed, how often it is being used, and what materials that shutter was built from. However as we said, if it is a commercial use roller shutter (Or even home roll-down door in some cases), it is better to use the services of a professional roll-down shutter technician.
Speed Door Tune-up NYC
Just like the vehicle you use every day (Or almost every day) need to be maintained and service such as oil change, breaks inspection and safety check, so does your speed door. But before we begin, we need to make one thing clear: Speed door tune-up is not a replacement for repairs. So in the vent where you are experiencing hard time operating your speed door in New York you probably need repairs before the tune-up. But if your speed door is working fine and flawlessly, and you haven't lubricated it for a while, you may want to consider maintain your speed door.
Every rolling door, whether it is roll down door, speed door, or speed door in the Bronx need to maintained, in order for the speed door to continue working just like it is working, and will not be the cause for any speed door issues.
To make sure that your speed door continue to work in a perfect way for many more years and it will not be the reason for inconveniences, you need to perform a speed door tune up (Speed door tune-up), at least every 6 months. Performing the tune-up will do 2 things: It will improve the way your speed door operate, since you will be lubricating some of the many moving parts, and it will preserve the parts from breaking or getting rusted from the weather damages, and from the daily use of the door. And buy lubricating the door, you are decreasing the chances that you will need speed door repairs in the near future.
Rollup door maintenance and parts
Sometime during the maintenance of a rolling iron door, we find that one of the materials or some materials are damaged and need to be replaced. several of the materials we can get on the spot, some we can get the same day, and some need to wait until the next day. Qualified shutter repairman has the ability to locate malfunctions that the unexperienced person will not be able to locate. And by missing the damaged part he miss the whole idea of roll-down door tune up. And as we believe, there is no better way to explain things than example from real life:
Failing do-it-yourself roll down shutter repair
The prices for rolling iron door maintenance can change from one iron door to another. However for the basic storefront door we charge $85 for greasing and tune up (Not include repairs). Once we sent a repairman to perform roll-down shutter maintenance, and the customer told the repairman that charging $85 for roll-down shutter maintenance is overpriced and that he can do the job by himself. It took less than one hour for the customer to call us and tell us that he did something wrong and he want us to come back and do the tune up. What he did not know is that the shutter now required more than just tune up, when he greased the shutter he left one of the equipment on the truck, and while trying to close the door, 5 slots came off trucks, and now he needed off trucks repair.
To make long story short: Instead of paying $95 for the maintenance, which would be performed by an expert, who repaired and greased thousands of shutters, he tried to grease and tune the shutter by himself, and ended with off trucks shutter. So he paid $275 for the repair, and $95 for the maintenance. Conclusion: Hire a local expert to service your roll-down shutter.
When to maintain a iron door?
There isn't one answer for that question, since every roll-down shutter require different treatment. For example: A storefront iron door which is being used once every week doesn't need maintenance as a parking lot roll-down shutter service which is being used ten times a day or more. At the same time, a shutter which is installed outside, and it is exposed to the weather conditions in New York require more treatment than interior roll down shutter. If we need to give a general period of time, we would say that once every six months will be a reasonable period of time to maintain a shutter.
Rolling doors service New York City
Speedy Doors of NYC offer all kinds of rolling doors and roll up shutters services. You might be looking for emergency repair, or for maintenance, we can deliver. There is no iron door that will be too big or too small for our technicians, and with our same day service, we can take care of your roll down shutter today. For same day roll down door service service, get in touch with us, and one of our experts will be happy to assist you.